69th Annual
Genesee Valley Hunt Horse Trials
July 8th – 9th, 2023
2023 Omnibus Listing 
2023. Entry Status/times
Are you a foxhunter interested in entering?  Check out the omnibus listing above to get the entry information.  Foxhunters division will be run at INTRO level this year.  There are no USEA fees for the Intro level.  Horses and riders do not need to be signed up for the USEA.  Contact Kathleen (kirkwoodgvh@gmail.com) if you'd like more information!

The 9th Annual Donald T Holland Memorial Team Challenge!


This will be a team competition created to foster camaraderie among competitors at all levels of competition.
The concept is as follows(a little different this year!):
1. 3 – 4 member teams
2. 3 scores to count, One drop score when 4 member team
3. Must have riders from a minimum of 2 levels, with a maximum of 2 intro riders on any given team.
4. Awards are beautiful sashes 1 – 3 place for all team members, and mint julep cups.  
Get your teams together!15
---
We were again approved for T.I.P awards this year!  T.I.P numbers can be obtained through the Jockey Club – awards are per level (not division).  Visit The Jockey Club
Contact the Secretary Kathleen Kirkwood at kirkwoodgvh@gmail.com for more information.
---

Roots Tavern Road & Nations Road, Geneseo, NY.
The Genesee Valley Hunt Horse Trials are sanctioned by the US Eventing Association and USA Equestrian.
_______________________________________________________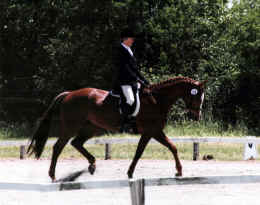 Dressage:
The dressage phase is designed to test the horse's physical development, mastery of the basic gaits and obedience to the rider's unspoken commands.
_______________________________________________________
Cross Country: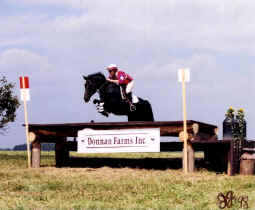 This phase tests the endurance and jumping skill of the horse over open country. It challenges the competitors' knowledge of pace and the ability of their horses over various terrain.
________________________________________________________
Show jumping: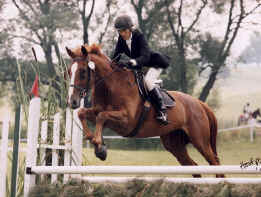 The object of the show jumping phase is to prove that after the endurance demonstrated on the cross country course, the horse still has the suppleness, energy and obedience necessary to continue in competition.
________________________________________________________________________
Horse Trials comprise three distinct tests during which a competitor rides the same horse throughout, a dressage test, a cross country test, and a show jumping test. The dressage phase on Saturday is held at Hideaway Farm on Roots Tavern Road. It is an ideal location with two beautiful sand rings and plenty of well groomed grass areas for an additional ring and warming up.
The site of the cross-country and show jumping competitions, on Sunday, is the Nations Farm, on Nations Road. The area is open, with rolling hills, and good viewing for spectators. The show jumping or "stadium" phase of the Horse Trials is set in a natural amphitheatre on the Nations Farm, below the food and patron tents. There is no charge for parking or spectators, but there is a fee to enter the patron tent and enjoy all of its benefits.
Links to:
Directions & Map
(no charge for general parking or spectators)
General eventing information:
Other Local Horse Trials and Calendars: