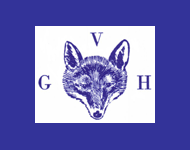 The Genesee Valley Hunt
The Genesee Valley Hunt was established in 1876 for the purpose of Foxhunting. It has continued in this tradition for 138 years as a social group dedicated to following hounds through our beautiful Genesee Valley. We are grateful to our over 200 landowners who allow us to Foxhunt on their land. Our members share a love of horses and hounds, and are dedicated, through the Genesee Valley Conservancy and their own efforts, to maintaining the rural and agrarian character of our Valley.
The Genesee Valley Hunt is a vital part of Livingston County's rich equestrian history and hosts three special events open to the community each year. Our Annual Opening Meet down Main Street in Geneseo (usually the last Saturday in September) features a parade of our Genesee Valley Hunt fox hounds and members on horseback in traditional attire.  The Genesee Valley Hunt Horse Trials is a US Eventing Association-sanctioned three-phase event, in which horses compete in dressage, stadium jumping and cross-country jumping.  We also host the Genesee Valley Hunt Races each year on the second Saturday in October, where we share our traditions with the community, while giving back to local charities and promoting agriculture.