Terrier Race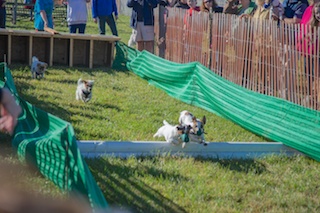 The Genesee Valley Hunt Terrier Races were originally designed to test the speed and tenacity of Jack Russell Terriers chasing prey.  We now open the Terrier races to all terrier breeds (Jack Russell, Parson Russell, and all other terrier breeds or mixes)!  Terriers speed after a lure to be the first through a tunnel made of straw!  The Terrier races are divided into classes based on breed, age and gender, with each class divided into multiple heats.  The races are run on the flat and over hurdles with winners declared in each class and finals run for champion and reserve champion rosettes!
Entry form attached: 2016-terrier-entry 
Fly Ball Demonstration
Flyball is the fastest growing organized dog sport in North America, sanctioned by the North American Flyball Association (NAFA).  Flyball is a sport where two teams of dogs compete in a structured relay race. 
Each dog runs with a team made up of four dogs. His team is competing against another team of four dogs. Sounds simple but it's not! Each dog learns how to run over a series of four jumps, pounce on a spring-loaded box which shoots out a tennis ball, catch the ball in his mouth, then runs back to the start! His three teammates do the same and hope to do it faster than the four dogs they're running against! This is a fast-paced sport which requires training for both dog and handler. The lane each dog is racing in runs 51 feet and the jumps can be over a foot high!
Dog Sledding Demonstration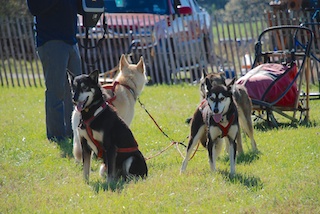 Dogsledding is hugely popular as a recreational sport in many northern states, and a necessary part of survival in northern countries.  Whether mushers are running alongside their teams in a second-splitting race or being pulled by a small team on a twisting, snow covered trail for fun… the thrill of dogsledding excites the mind and warms the soul.  Other mushers may be out in the deep snow hauling a sled of firewood; while their neighbors enjoy dogs pulling them on wheels at the speed of light.  All of these mushers have three things in common:  love of dogsledding, love for their dogs and learned dogsledding skills.  Come watch local mushers demonstrate the dog sport that is Dog Sledding.
Canine Grand Prix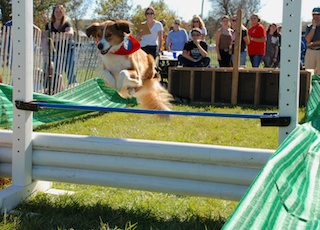 How high can your dog jump?  The Canine Grand Prix is a jumping contest modeled after Grand Prix horse jumping events.  Dogs are divided into three classes (small, medium, and large) and are called or sent over a jump.  The dog that jumps the highest without knocking the pole down wins!  Bring your dog and sign up at the races, or watch the sometimes fierce competition to earn the Canine Grand Prix rosette!
Weiner Dog Races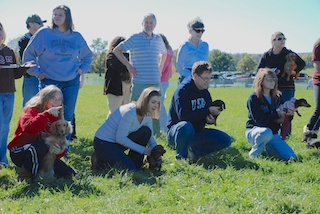 Dachshunds show their speed and athleticism in this always popular Hunt Races event.  This is a flat race featuring lots of weiner dog action!  All dachshunds are welcome to enter, with entries taken immediately prior to the event!
Parade of the Genesee Valley Hunt Hounds
– on the race course at 1:30 PM.